IFTF (International Floriculture Trade Fair.) Held 7,8,9 November 2018
For the first time since this show started years ago the parking lot overflowed. Four thousand parking spaces were not enough and addition parking was needed and opened. The IFTF show put on by HPP Exhibitions has been getting larger each year so please, allow me to take you there.
This week in the Netherlands brings together a floral flood of exhibitors and buyers from around the floral world to attend two events. IFTF in Vijfhuizen (5 houses) and the Flora Holland trade fair in Aaslmeer.
This year I focused on the IFTF show since it is more cut flower specific and therefore hopefully more interesting to you my readers.
As indicated this show has continued to grow over the years adding more exhibit space and attracting more buyers. Around 30,000 visitors were on hand for the two three day shows. The booths at IFTF are getting more impressive each year specifically the breeders booths which are filled with the latest, most impressive, and hopeful varieties.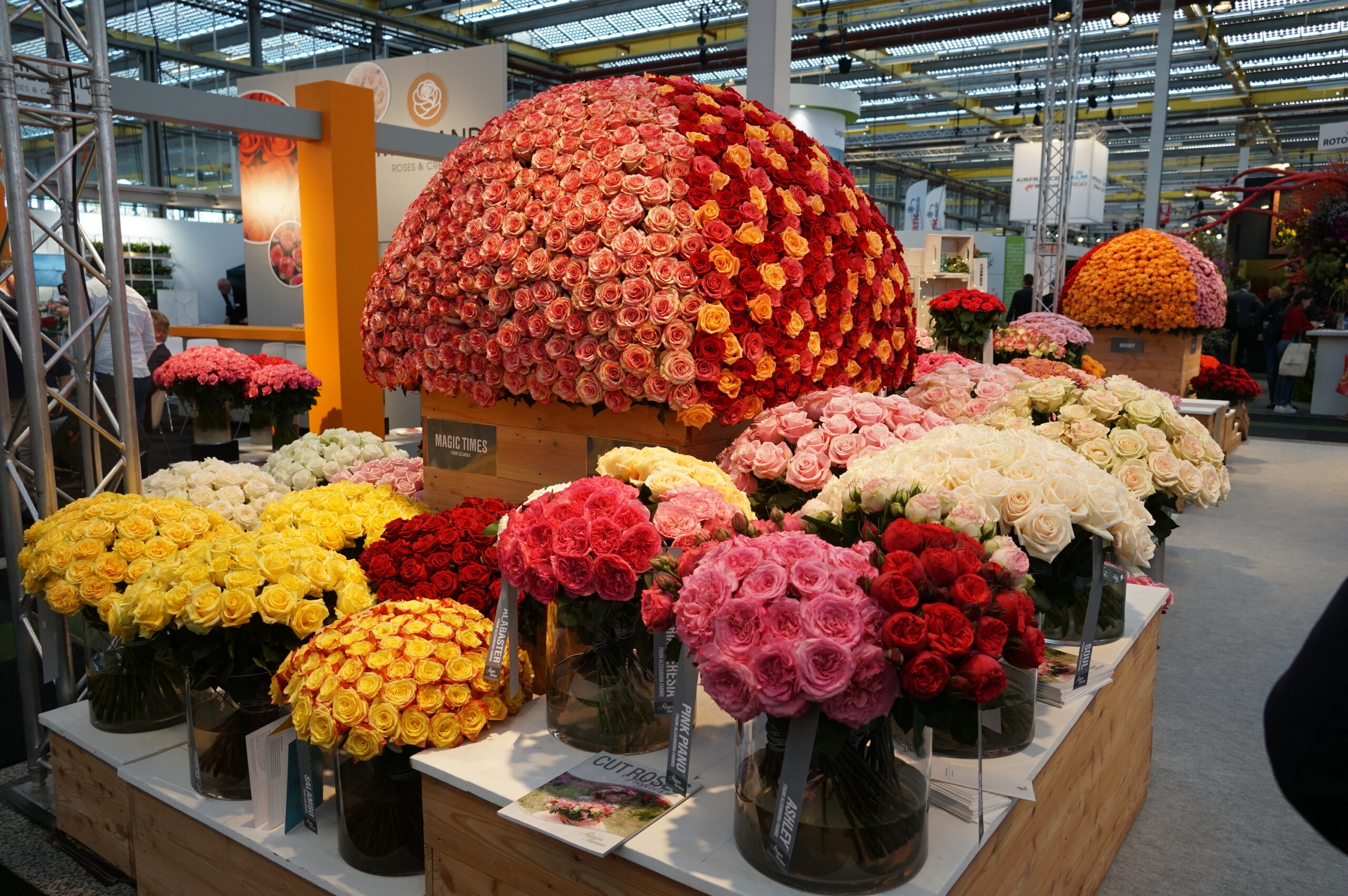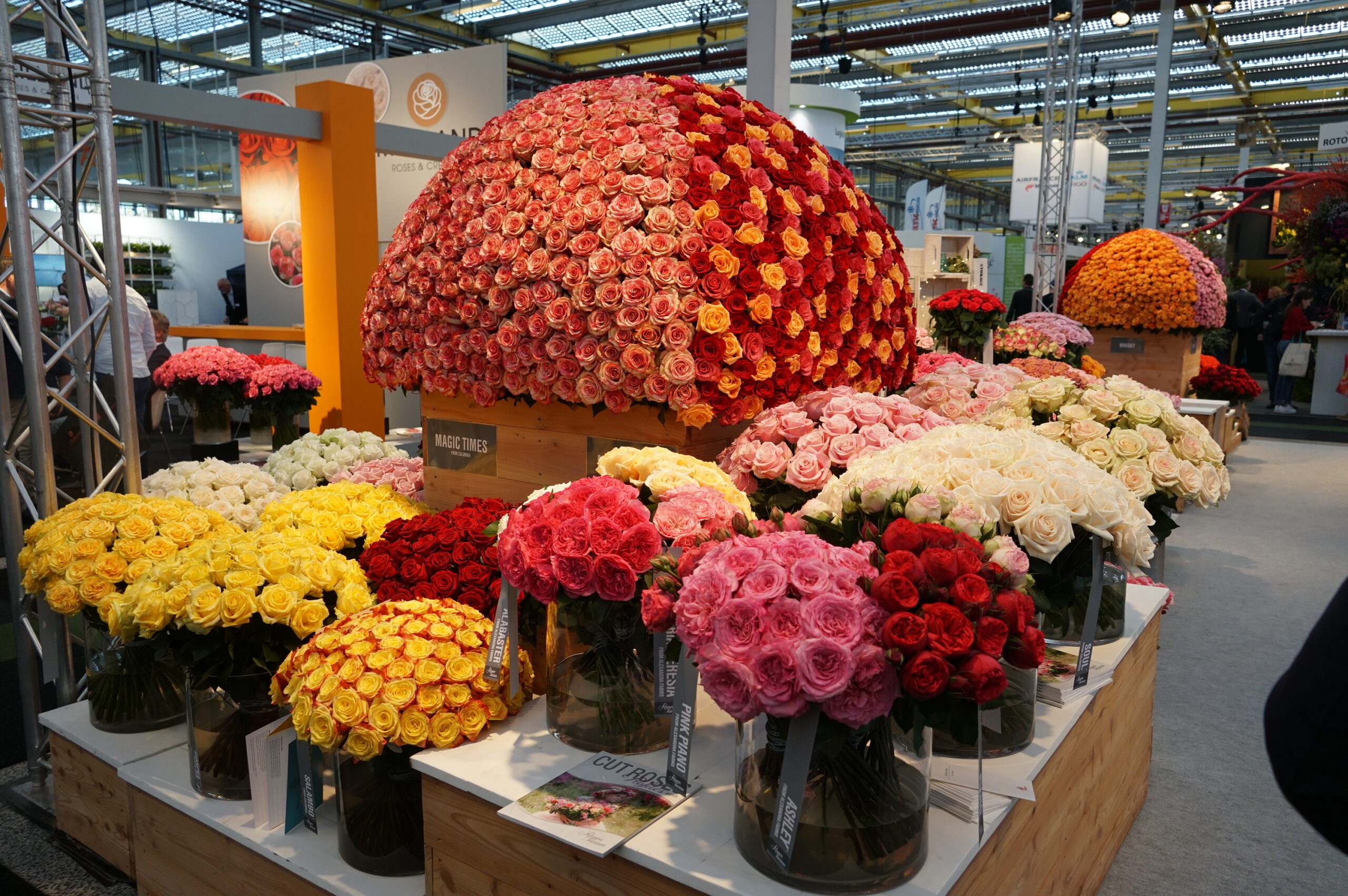 This is truly an international show with country exhibits from around the world. Colombia, Ecuador, Turkey, Iran, Italy, India, Kenya, Ethiopia and others were all represented in cooperative style. As a result this is not such a rose specific event like those in South America. Ranunculus, Gladiolus, Lillies and very exotic products from Japan were among the many different flowers on display.
Add in a very exciting student design show, the World of flowers design event and The International Floriculture Forum. This show was non stop action from beginning to end.
As we have seen during the last few shows the preserved flower business is working hard to make these super long lasting blooms into something that buyers want. Check out these country flag versions. Love them or hate them they are making an impression.
Most of the attendees come here to do business and are looking for new suppliers, new varieties, and/or eager to meet their current suppliers and discuss more business. This is a trade show so business is the key word. This is the place to find all of these things and more.
For an American these foreign shows can sound like the "tower of babel" where one can over hear conversations in Dutch, Germany, Polish, French, Russian and understand very little. But thankfully the English language is a common denominator and thus I am able to communicate with nearly everyone.
As an American, I always try to stay away from politics but these days our American President's actions and words are a concern to nearly all I encounter. From a business perspective I most worry about flowers being caught up in the trade war that is going on.
There was less discussion about logistic issues perhaps because the use of sea containers has already been helping importers and exporters manage transport.
If you were interested in attending one show in Europe I would recommend IFTF 2019 November 6,7,8. The weather is refreshingly cool and its fall so a good time of the year to be in Holland. This show also marks the end of the exposition season for 2018 so I will return to my regular unscheduled life.
Seasons Greetings to all.
I have once again prepared a video of my experience at this fun show (below).Thank you for reading and watching.
Williee Armellini
Editor: flowersandcents.com